The Victorian Transport Infrastructure Conference returns for its 12th year
Posted On April 29, 2020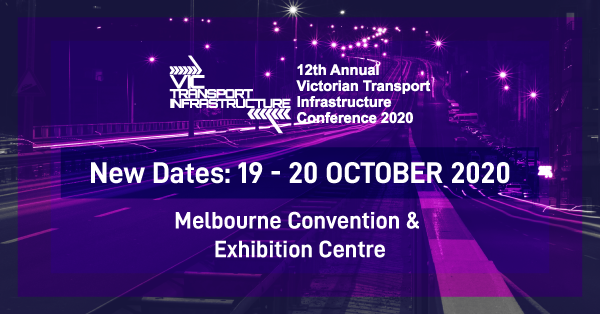 The 12th Annual Victorian Transport Infrastructure Conference is going ahead for 2020, with new dates locked in for the 19-20 October. As a result of the global COVID-19 situation, Expotrade Australia has decided to move the event to these new dates to ensure that the high level of quality our conferences are known for is upheld. We look forward to delivering the Victorian Transport Infrastructure Conference to our delegates in October and providing two value-packed days of informative keynotes, spirited panel discussions and exclusive networking opportunities.
The conference will showcase the vast range of influential projects that are set to further enhance and streamline Victoria's state of the art transport network. Covering everything from suburban public transport upgrades and new regional systems to major port projects and large scale road redevelopments, the event will shine a light on every facet of Victoria's booming transport sector.
The highly anticipated Suburban Rail Loop will connect Melbourne's middle suburbs from the Frankston and Werribee lines through to Melbourne Airport. Running through the biggest hubs for health, education and employment opportunities, the Rail Loop will ensure Melburnians have access to the services they want and need. Nick Foa, CEO of the Suburban Rail Authority, will share the latest updates on how the project is tracking as well as the potential implications COVID-19 will have on its delivery.
Stage 2 of the Monash Freeway Upgrade is being jointly funded by the Victorian and Federal governments, pouring an astounding $1.08 billion into one of Melbourne's busiest stretches of road. The project is tipped to make travel speedier, safer and more streamlined through upgraded interchanges and increased road capacity. Expected to be completed by 2022, this presentation will look at how the upgrade is progressing in this time of uncertainty and provide a fresh update on the project's delivery.
Looking to the regions, a joint initiative between the Victorian and Federal governments will deliver crucial upgrades to every regional passenger train across the state and create over 1000 new jobs in the process. The Regional Rail Revival Program will modernise the network and provide much needed extra services to the areas experiencing substantial growth. Project Director, Mark Havryluk, will offer insights into the $1.75 billion project and share updated timelines for its execution.
Attendees will gain access to exclusive project updates from those most closely involved, as well as the lucrative opportunity to mingle with industry experts and key stakeholders. With hours of valuable networking sessions, delegates will have the chance to make crucial business contacts, share their own work with peers and discover new opportunities within the infrastructure industry.
The 12th Annual Victorian Transport Infrastructure Conference will be held on the 19th and 20th of October 2020 at the Melbourne Convention and Exhibition Centre. For more information, please visit: https://www.vicinfrastructure.com.au/