Showcasing Crucial Infrastructure Advancements Across The State
Posted On May 15, 2019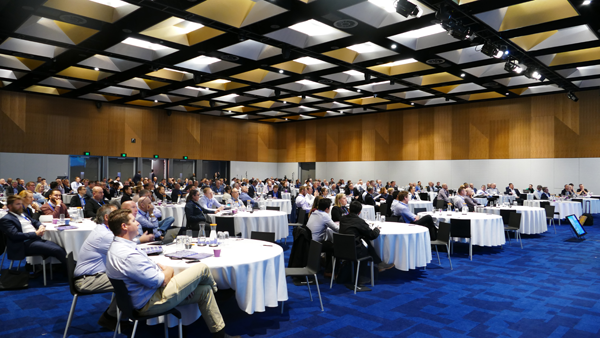 The 11th Annual VIC Transport Infrastructure Conference took place on the 1st – 2nd May 2019 at the Melbourne Convention and Exhibition Centre. With over 350 registered attendees, this year's event highlighted impactful transport infrastructure developments taking place across the state.
Over 35 senior level speakers from public and private sectors congregated across the events' two days, to present on the overarching theme of "Transporting Victoria Forward".
Presentations on Day One began with an informative address given by Allen Garner, CEO of the Major Road Projects Victoria. Garner explored the objectives of MRPV and the 28 projects that are currently underway across the 5 streams of project delivery across metro Melbourne and regional Victoria.
Following Garner was Catherine Rooney, Strategy & Research Executive Director of Infrastructure Victoria. Rooney provided a keynote address exploring Infrastructure Victoria's involvement with state significant major transport infrastructure developments.
Peter Sammut, CEO of the West Gate Tunnel Project, provided a project update on the highly anticipated WGT development. Providing a much-needed alternative to the West Gate Bridge, the WGT will reduce travel time for commuters and introduce a 24-hour truck ban on select streets.
Chief Executive of VicTrack, Campbell A. Rose, touched on the challenges and opportunities faced with developing in and above Melbourne's rail corridors.
Day One concluded with a lively panel discussion that explored the potential for connectivity within the state that could be accomplished through decentralisation. Bernadette George of Mildura Rural City Council moderated the panel which included Dr Crystal Legacy of Melbourne Uni, Martin Cutter of the City of Greater Geelong and Stuart Moseley of the Victorian Planning Authority.
Day Two began with an international perspective delivered by the former Head of Unit at the European Railway Agency, Richard Lockett. Lockett presented on the optimisation of state facilities in the context of decentralisation and population growth.
Parliamentary Secretary for Public Transport Infrastructure and Member for Eltham, Vicki Ward MP, provided a Keynote Address. The presentation covered current and upcoming state infrastructure projects, transformative road and rail projects, and the objective of Victoria's Big Build program.
Anne Taylor, Director Strategic Safety - Office of the Director-General for Major Transport Infrastructure Authority, took the audience through the benefits, limitations and fundamentals of utilising the 'Active Client' Safety Model to deliver the Major Transport Infrastructure Program.
Moderated by Kate Roffey of Wyndham City Council, Day Two saw an exciting panel discussion that delved into the controversial topic of congestion within Melbourne. Roffey was joined by Cr Nicolas Frances Gilley of City of Melbourne, Peter Kartsidimas of RACV and Craig Richards of Bicycle Network.
The 11th Annual Victorian Transport Infrastructure Conference experienced its biggest year yet with successful keynote presentations, multiple networking events and a lively cocktail networking function concluding Day One. Held on the 1st – 2nd May at the Melbourne Convention and Exhibition Centre, the two-day event brought together a plethora of industry professionals to provide an informative and well-rounded view of Victoria's expansive upcoming transport infrastructure.
About Expotrade

Expotrade is a global conference and event organizer with its head office based in Melbourne, Australia. Expotrade has delivered some of the largest, most successful B2B industry conferences and events in the areas of infrastructure, major projects, sustainability, technology & architecture. For over 10 years, our unique blend of knowledge, experience and flexibility has accomplished an array of consistently top-quality events. Today, Expotrade events enjoy such a distinctive edge, they are amongst the best patronised in the calendar.

For more information, visit http://www.expotradeglobal.com/.